105th National Cross-Country Championships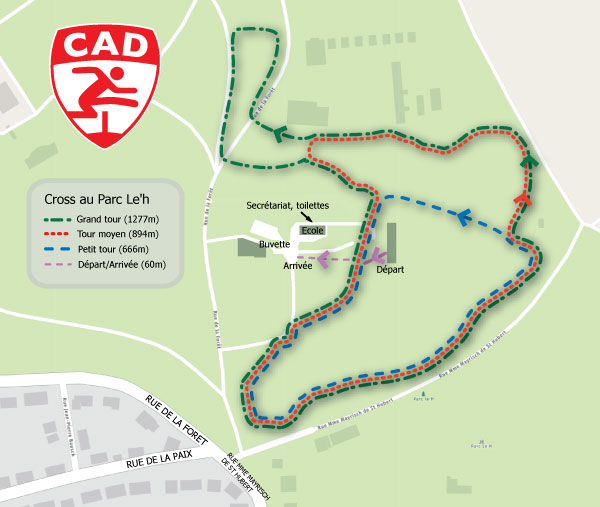 105th National Cross-Country Championships
Competition information
Date: Sunday, March 13th, 2022
Start: 11:30
Location: Parc Le'h, Dudelange
Changing rooms: John F. Kennedy Stadium, Dudelange
Secretariat: "Waldschoul" school Parc Le'h, Dudelange
Covid (new Covid law since 12/03/2022):
The National Cross Country Championships will be organised under the Covidcheck 3G regime.
Athletes, judges, coaches, officials and spectators, over 12 years and 2 months old, must present either :
– a vaccination certificate with a QR code
– a recovery certificate with a QR code
– a valid negative test certificate (PCR or rapid antigenic test)
No access will be given if the check is not conclusive. No rapid tests will be performed on site. We therefore invite clubs to perform rapid antigenic tests on their athletes, if necessary, at the earliest 24 hours before the race. Identification will be required at the entrance.
There will be only one access to the site, delays for the control at the entrance are likely, and it will be necessary to plan to come sufficiently in advance.
A catering stand will be available for athletes, coaches and spectators.
Registrations: Only via the club.
Check the Seltec online portal here.
Course and time table: Here you can download a corresponding  PDF document.
Races
11:30
Débutantes (U12)
1337 m
1 long lap
11:40
Débutants (U12)
1337 m
1 long lap
11:50
Ludiques girls (U8)
726 m
1 short lap
12:00
Ludiques boys (U8)
726 m
1 short lap
12:10
Minimes fem. (U16)
2514 m
1 short and 2 intermediate laps
12:30
Minimes male (U16)
2742 m
3 intermediate laps
12:50
Cadettes (U18)
2742 m
3 intermediate laps
13:10
Cadets (U18)
4557 m
1 short and 3 long laps
13:30
Scolaires fem. (U14)
1848 m
2 intermediate laps
13:40
Scolaires male (U14)
1848 m
2 intermediate laps
13:50
Benjamines (U10)
726 m
1 short lap
14:00
Benjamins (U10)
726 m
1 short lap
14:10
Juniors fem. (U20)
Espoirs fem. (U23)
4557 m
1 short and 3 long laps
14:35
Juniors male (U20)
Espoirs male (U23)
6445 m
7722 m
5 long laps
6 long laps
15:10
Seniors fem.
5834 m
1 short and 4 long laps
15:40
Seniors male
10787 m
2 intermediate and 7 long laps