A new club record and the throwers on fire
The summer season has begun and our athletes are striving for new personal bests in their disciplines.
On 21 May at the Challenge Tageblatt 3, Mex Krecké not only achieved a new PB in the triple jump with 10m70, but even a new club record. He broke the old record from 2001, many congratulations!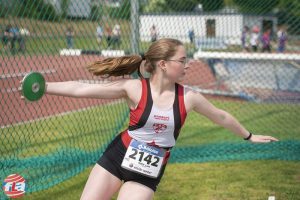 Lena Koch also improved in the discus throw, her new record is 27m70.
In general, our throwers are in good shape right now. At our hammer meeting on 25.5. in Zoufftgen, Isabeau Pleimling threw SB with 51m53 and is getting closer and closer to her own national record. Gilles Lorang also put in a strong showing with 46m25. Nadine Kremer pulverised her personal best and threw 48m04, a performance she confirmed several times in the following days in Mutterstadt (47m66) and in Sedan (48m03). Annette Kohl also competed in Zoufftgen and threw the 4kg hammer over 20m. Then, in Mutterstadt she was able to set a new best performance with the 3kg hammer, her actual weight, with almost 30m (29m65) .