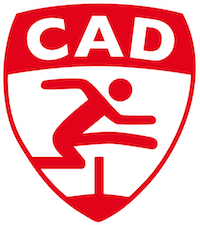 INVITATION
Dear athletes, dear members, dear parents of athletes,
We hereby cordially invite you to the
ORDINARY GENERAL ASSEMBLY
OF THE CERCLE ATHLÉTIQUE DUDELANGE
Sunday October 18, 2020 at 18.00 at the Hall at 68 rue du Nord in Dudelange-Burange.
Agenda of the meeting:
1. Welcome speech and report of President Josée Lorsché
2. CADS Activity report, Marie-France Saeul
3. Athletics sports activity report, Olivier Boussong
4. Triathlon sports activity report, Olivier Boussong
5. Activity and financial report of the Secretary-Treasurer Jean Lorang (on paper)
6. Statutory Auditors' report
7. Discussion of reports and open discussion
8. Fixing the membership fees for 2021
9. Elections: CAD Executive Committee – Statutory Auditors
10. Speeches by our Guests of Honour.
Anyone wishing to join the CAD Executive Committee is invited to apply up to one hour before the General Assembly to President Josée Lorsché or Secretary Jean Lorang.